Cleaning Services
Weekly Cleaning
Bedrooms and Living Room
Vacuum and mop floor
Clean all mirrors
Changing of bed linen
Dusting of furniture
Kitchen
Mop floor
Wipe cooking stove and exterior of electrical appliances
Wipe exterior surface of all cabinets
Wash and disinfect basin
Bathroom
Clean and disinfect bathtub, basin, toilet bowl
Washing of toilet floor and walls
Clean all mirrors
Others
Ironing (excludes bedsheets and cover)
Empty trash
Clean windows and grills (periodical)
Wipe and clean all ceiling fans and lights (periodical)
FREQUENCY:
Weekly, once or more times per week
Minimum 3 hours per session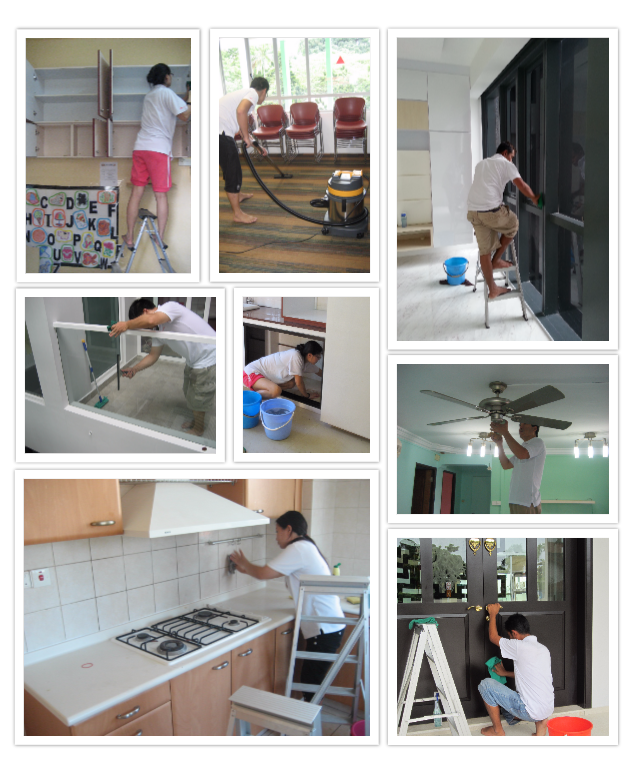 Ad-Hoc Cleaning
Bedrooms and Living Room
Vacuum and mop floor
Clean all mirrors
Dusting of furniture
Kitchen
Mop floor
Wipe exterior surface of all cabinets
Wash and disinfect basin
Bathroom
Clean and disinfect bathtub, basin, toilet bowl
Scrub toilet floor and walls
Clean and polish all mirrors
Others
Clean all windows and grills
Empty trash
FREQUENCY:
One time basic cleaning session
4 hours per session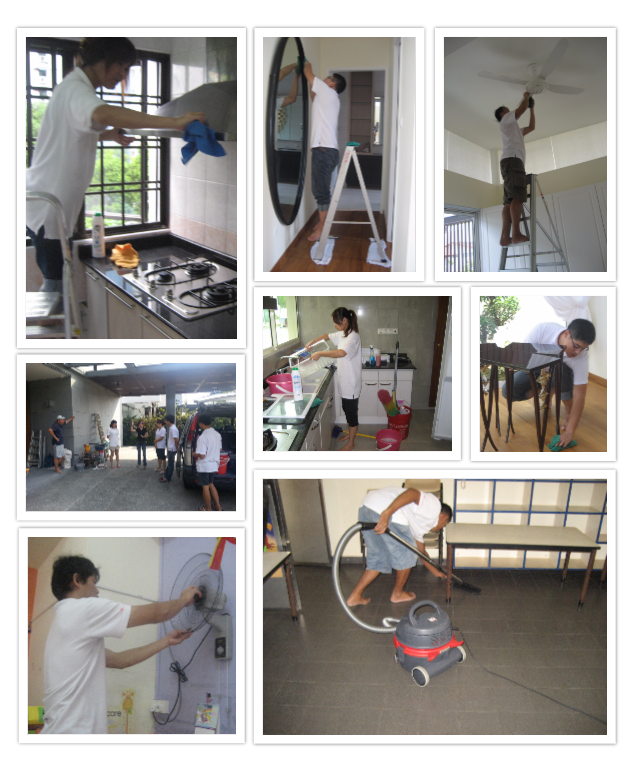 Bedrooms and Living Room
Vacuum and mop floor
Wipe all furniture, tabletop and other fittings
Wipe interior of cabinets (if empty)
Clean all mirrors
Wipe and clean all ceiling fans and lights
Dust and clean furniture
Wipe glass windows and metal grilles if any
Clean all doors /switches
Kitchen
Washing of floor
Wipe exterior surface of all cabinets
Wipe interior of cabinets
Wash and disinfect basin
Washing of kitchen wall tiles
Grease removal from kitchen hob
Clean exterior of oven, stove and refrigerator
Bathroom
Clean and disinfect bathtub, basin, toilet bowl
Washing toilet floor and walls (include water pipe)
Stain removal
Clean all mirrors
Others
Clean all windows and grills
Wipe and clean all ceiling lights and fans
FREQUENCY:
One time cleaning session
CLEANING TOOLS AND DETERGENTS will be provided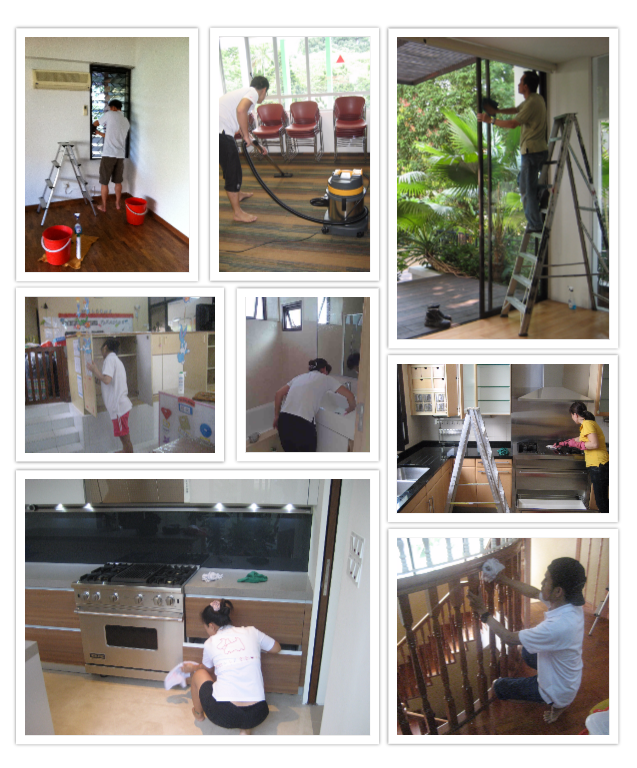 Pre-Moving Cleaning
Bedrooms and Living Room
Vacuum and mop floor
Wipe all furniture, tabletop and other fittings
Wipe interior of cabinets (empty cabinets only)
Clean all mirrors
Wipe and clean all ceiling fans and lights
Kitchen
Washing of floor
Wipe exterior surface of all cabinets
Wipe interior of cabinets (empty cabinets only)
Wash and disinfect basin
Washing of kitchen wall tiles
Grease removal from kitchen hob
Clean exterior of oven, stove and refrigerator
Bathroom
Clean and disinfect bathtub, basin, toilet bowl
Washing toilet floor and walls
Stain removal
Clean all mirrors
Others
Clean all windows and grills
Wipe and clean all ceiling lights and fans
FREQUENCY:
One time cleaning session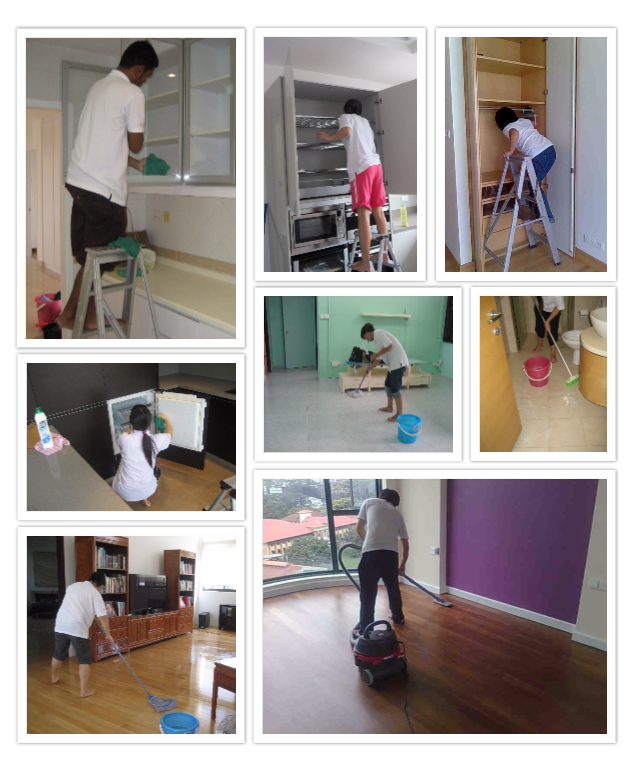 Office Cleaning
Office
Vacuum and mop floor
Wiping of table/chair/equipment
Dusting of furniture/shelves
Cleaning of pantry area / dishes washing
Empty trash bin
Washing of bathroom/toilet
FREQUENCY:
Weekly, once or more times a week or fortnight basis
Minimum 3 hours and above per session
CLEANING TOOLS AND DETERGENTS need to be provided by office.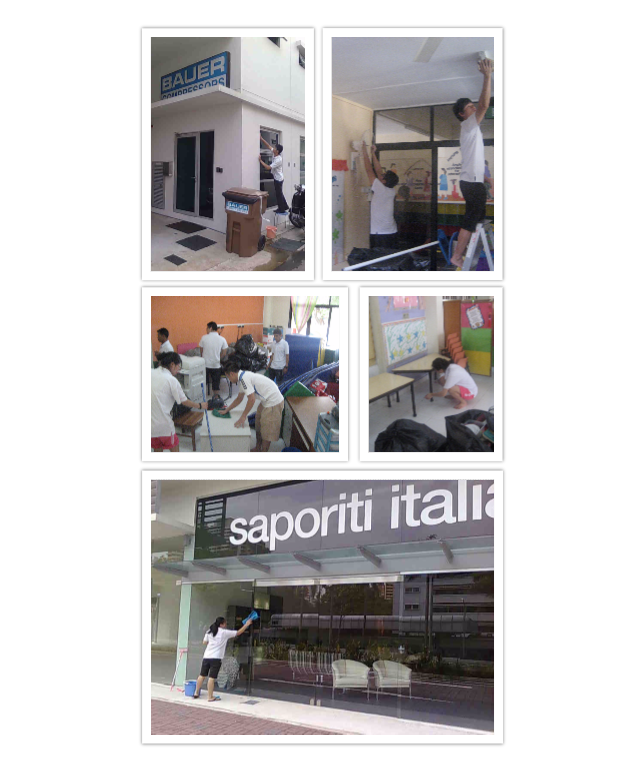 Air-Con Cleaning
Home Carely provide most air‐con service works for both residential and commercial property. We Provide the following air‐con service promptly and at reasonable rate.
Air-Conditioner
Servicing and cleaning
Chemical cleaning
Water leakage rectification
Vacuum /flush condensate drain pipe
R22 Refrigerant gas level check and top up
Regular contract servicing
Repair and replacement of part
Window Cleaning
Professional window cleaning requires mastery of special techniques using tools, most notably a squeegee. The use of proper window cleaning tools and utensils results in a better cleaning compared to home methods, such as windows cloth, using special household window cleaners such as Double Face Glass Cleaner.
*This package is not applicable for jobs which require staging works.*
Carpet Cleaning
We provide collection and delivery of carpets/rugs no larger than 9 x 12 ft for cleaning at our factory. On‐site cleaning is recommended for carpets/rugs larger than 9 x 12 ft. Price starts at min.$2.00 per sqft. We also provide on‐site cleaning for offices and show room. Contact us for FREE quote. If you have carpets in your home, chances are that you will have to shampoo them at some point or another. Some people might think that shampooing carpet is just like vacuuming with a larger and heavier machine. The truth is that there is a little bit more to it than that. There are certain techniques that will ensure your carpets get cleaned correctly and that your carpet shampoo efforts will not be in vain.
Rotary Scrub And Extraction:
When the carpets are very dirty, we utilize a two step method of machine scrubbing followed by hot water extracting high traffic areas. This service insures that these areas are as clean as possible.